Newspaper is one of the best WordPress theme for news blog or article publishing. Even now it has SOME e-commerce pre built themes also. If you have a purchase code of newspaper theme you can use it in only one site. Using same activation code in many site will disable the theme activation automatically. So you have to activate the theme manually from the theme activation section of theme panel.
Just follow the steps shown in the images bellow and get the "Server ID". You need the Envato Purchase code also to use the code in many sites using the server ID for manual activation. And finally you need the TagDiv Activation Key for your site to activate the theme manually.
Note: This activation key will work for the existing installation of WP. If you migrate your site or change hosting provider or re-install the theme, you will loose the theme activation and you have to activate it again with new server ID and activation key. With this activation you will receive the future updates from theme panel. Please go to download section at bottom of the page.
Theme Cloud Template will not available for this.
Step 1: Download and install Newspaper Theme untouched files. Please don't use any nulled scripts. Activate the theme and install required plugins for this theme from themes plugin section. After all plugin being installed you may install or a pre-built theme or go to theme activation. Click on "Activate Now" button.
Step 2: If you have a new Envato purchase code that you didn't used any other site you can put it here. But if you don't have any unused code and you want to use old code to a new site, go to the bottom of this page.
Step 3: Now click on "Activate the theme manually". Don't worry if you don't have any Envato purchase code. We'll provide you with Tagdiv actvation key.
Step 4: Copy your server ID as shown in the image bellow. Send us all information using our contact for bellow the content.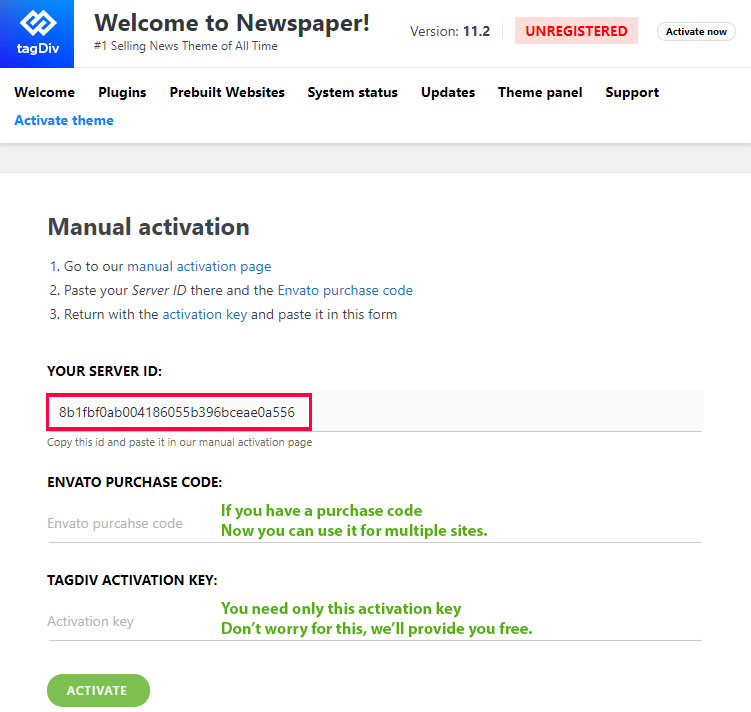 Now submit this for with all required data that we need to send you the activation code:
1:Domain Name:
2: Server ID:
3: Envato Purchase Code: optional (Don't worry if you don't have this)
Please use subject as: Send newspaper activation code

After receiving your request we'll send back you the TagDiv Activation Key within next 3 working days. Enjoy the original Newspaper theme with lifetime free updates.
TagDiv Newspaper theme free download:
Theme version: 11.2 (Updated on 29 July, 2021)
You can use it under GPL license without activating theme license, but you will not receive any updates.
The Zip archive is untouched and clean which is downloaded from themeforest.
Download from Google Drive.