Welcome to MacOS. You choose the best environment for your work. Now you need Bangla typing software for all kinds of documentation, design work like Bangla Typography and Printing publications. Bijoy is the only one solution for this. You may have some other Free Bangla Unicode keyboard but you cannot use it in these commercial purpose. Mac users in Bangladesh and all other Bangali users like Indian and some other people are used to with Bijoy Bangla Typing software and Keyboard layout.
You can easily download and install Bijoy Bangla Typing Keyboard from our website. Download and install the package. System will restart.
You are not all done. Click on Keyboard input button on right top corner. Click "Open Keyboard Settings.."
Bijoy keyboard is not listed in Keyboard list. You have to add three Bijoy Bangla Keyboard from available keyboard list. Now you already installed Bijoy Bangla Keyboard in your Mac, it should be available in Keyboard Settings.
Click the + (plus) sign at the bottom left to 'add a keyboard layout'.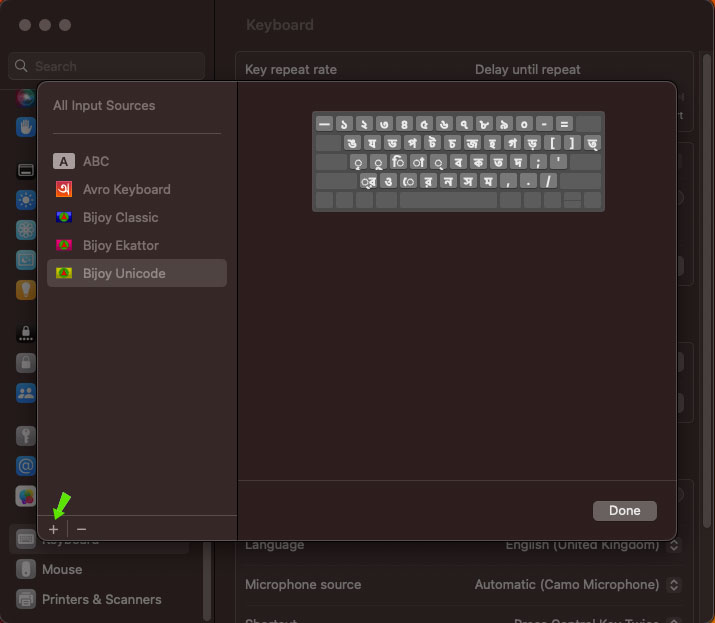 You will see a list of available keyboard layouts. To find out the Bijoy layouts quickly, type "Bijoy" in the search bar at bottom left corner.
You will see three Bijoy Keyboard layout. Add these three Bijoy Layout one by one. Click Done.
Congratulations, you are now ready to type Bangla with Bijoy Bangla Keyboard.
Download Bijoy Bangla Keyboard for Mac OS.